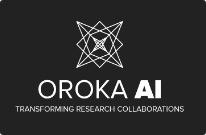 OROKA AI
ilan.golberg@oroka.ai
Oroka.AI develops an online platform for organizations & researchers that changes the way they raise non-dilutive funding.
The basis for every grant proposal is a comprehensive document that includes all the claims, ideas and visualizations that describes why one should get granted.
Market's major pain points:
Too many opportunities & lack of awareness – With more than a 1000 of detailed financing opportunities published yearly, it's impossible to track, filter and manage all the potential ones.
Barrier to entry – Writing a good proposal takes know how, it is very hard to address all the required issues and best practices without guidance and access to support.
Close